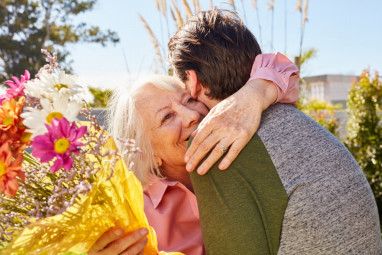 Our gift suggestions for Mother's Day
Our gift suggestions
Mother's Day is the perfect time to show our mother all the love we feel for  her. Here are a few suggestions to celebrate this special day.
Give the gift of your time Show your love for Mom by spending quality time with her. Given the  context of the pandemic, please make sure to maintain the usual  precautions (distancing, mask, hand washing).
• Spend some quality time with her by taking her for a walk or a picnic  in the park.
• Sign up for an online course to take together, but remotely (maybe a  cooking or yoga class).
• Create a scrapbook with family photos. It's a great way to revisit fond  memories.
• Cook or bake one of mom's famous recipes, and deliver it on May 9th  so that she gets the day off from cooking.
• Schedule a moment to play a board game virtually. Find the game  she would enjoy the most from the many free apps for smart phones  or tablets.
• Interview your mother (in person or on the phone) to record her life  story by asking her questions from the book The Life of An  Incredible Woman : a Story worth telling. She can, of course, take  the time to fill out this memory book on her own.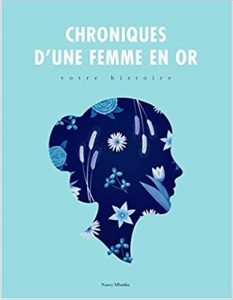 Useful gifts ideas
Thoughtful gifts she can cherish for many years :
• Offer her a magazine subscription based on her interests. You can  also sign her up for the Famileo service, a newspaper that collects  your family's news and is delivered to your mother's home every  month. A great opportunity to include all members of your family.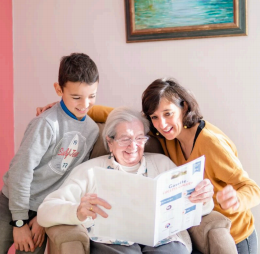 • Give her an experience; a show (virtual or live), a guided tour of her  city or neighborhood, or a trip to a spa. Think about offering her a  special moment that will spark her interests and will add fun to her  daily routine.
• Why not encourage local businesses? Find reusable shopping bags, natural cosmetics, jewelry and local delicacies on: etsy.com,  artdesartisans.ca , signelocal.ca
• Create personalized items from your photos, such as mugs,  calendars, blankets, etc. Check out the photo counter of your  pharmacy or department store.
• Equip mom with a tablet so that she can make video calls and stay in  touch through social media.
Long distance gifts
For geographical (or pandemic) reasons, it can be difficult to meet  in person on Mother's Day. Beyond the traditional delivery of  flowers, it is possible to celebrate the day in an original way despite  the distance.
• Have a meal (even brunch!) delivered on Mother's Day.
• Sign her up to a subscription box. Every month, she could receive  little gifts that make her think of you. There are boxes for every taste:  discovering teas, book clubs, personal care products, eco-friendly  products, and many more.
• The heyallo.com website offers you the possibility to have a  personalized message recorded by a canadian star of your choice. An original way to deliver a message and the funds raised are donated to a good cause.
• With the connected digital frame Familink send messages and pictures remotely. No action required for the person receiving them. A great way to keep mom in touch with the whole family.
 No matter what formula you choose, celebrating mom makes sense when  it's done with heart. We do not receive any commissions from links outside Eugeria.