Tips for Fighting Isolation Among Older Adults
Within the growing population of older adults worldwide, social isolation is becoming an important concern, especially for caregivers. Statistics Canada reports that more than 1.4 million seniors suffer from loneliness. It is common for social interactions to become less frequent in late adulthood, leading to higher rates of isolation.
Social isolation often develops after older adults undergo major changes in their daily living routines. Events that bring about the risk of isolation include: losing loved ones, transitioning into retirement, losing one's drivers license, downsizing to a smaller residence, losing a sense of belonging to a community, and general inactivity. Physical, sensorial and cognitive limitations are also risk factors which can lead to isolation and feelings of loneliness.
The Consequences of Social Isolation for Older Adults
Social isolation has negative repercussions on the health and well-being of everyone. For older adults, the primary consequences can be:
Early mortality
Cardiovascular illnesses
Nutritional deficiencies
Depression, anxiety, emotional distress
Rapid deterioration of cognitive functions
Impaired immunity, sleep disturbances and excessive fatigue
Solutions for Reducing Loneliness Among Seniors
The consequences of social isolation are intensified by stigmas or stereotypes related to aging. To avoid feeling exposed to ageism, seniors are less likely to make use of services and resources that facilitate regular social contact. By focusing on the benefit and enjoyment of available programming, you can help older adults in your life adopt habits that will promote their health and well-being.
Social isolation is by no means irreversible. If your loved one becomes distant and seems withdrawn, regular visits and calls by those they are closest to are highly recommended. It is not always possible to be consistently present or organize regular family visits with the busy schedules we have today. Caregivers can make use of the options listed below, which can help to reduce the negative effects of isolation for seniors:
Suggestions for Combating Isolation for the Elderly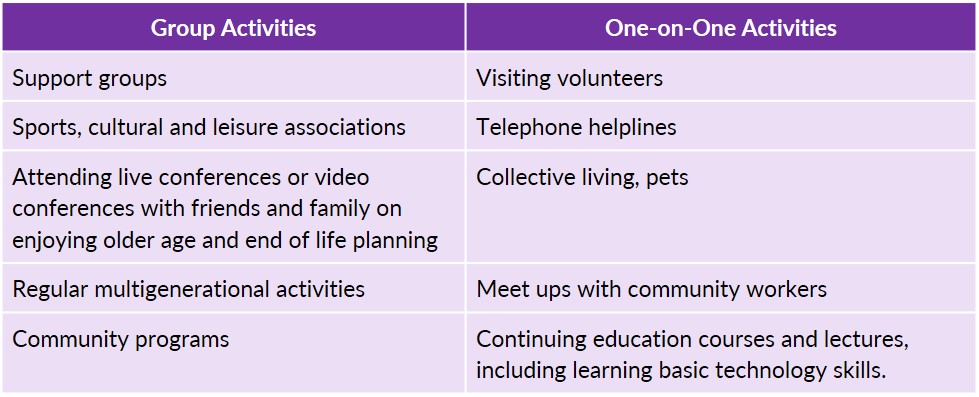 Many studies show that making an effort to participate in new activities helps to prevent and/or reduce feelings of loneliness for the elderly. Although the benefits of increasing opportunities to socialize will vary from one individual to another, a study showed that community activities are more effective than one-on-one initiatives in reducing feelings of social isolation in older adults.
Explore the different suggestions listed above with your loved one. Whether their interests lie in workshops at a senior day center, activities such as support groups for people living with an illness, intergenerational tutoring, or seniors' sports clubs, there are many opportunities for helping your loved one leave their loneliness behind and maintain their social and cognitive skills. Services tailored to the unique needs of each individual (such as paratransit, meals-on-wheels and educational courses in technology) can also help foster social interaction.
Key Takeaways
Combating social isolation for seniors is a step by step process which enables them to achieve the most out of life. Finding ways to help your loved one leave loneliness behind is not always easy but putting time into finding the right mix will benefit the family as a whole. Building trusting relationships through the development of community provides an important safety net against isolation for everyone, and especially for our seniors.
In cases of moderate to severe social isolation of someone you care for, it is recommended that you speak with a health professional such as a psychologist or doctor.