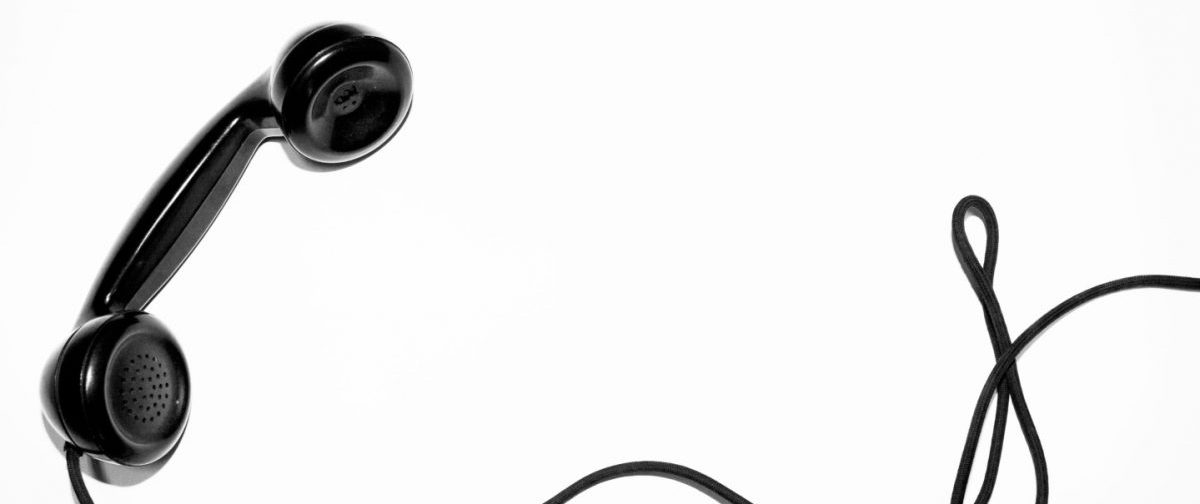 How to choose the right adaptive phone for your loved one?
Social contact is essential for the development and health of all. Opportunities to socialize tend to decrease with age, which could be due to individuals having a smaller social circle, the geographical distance of their children or the death of their spouse. Staying socially active can be a significant challenge when ageing which can lead to feelings of loneliness and isolation. It is essential to keep in touch with a close elder.
Being in regular communication has many benefits, for example; 
To assist in

breaking the feelings of isolation

and in turn, depression. Isolation among seniors has been shown to be harmful both psychologically and physically. The feeling of isolation is common among elderly experiencing loss and grief. 

To

reduce anxiety

. Providing a reassuring presence despite the physical distance can help to reduce stress and anxiety. 

To maintain a

meaningful connection

despite the physical, geographical distance to ensure a sense of belonging. According to a study published in the Scientific American, having significant relationships prolongs longevity by 50%.

The

cognitive stimulation

created by conversations, as well as the routine of frequent calls, helps to slow cognitive degradation.

To

ensure peace of mind

. Showing that you are available for regular contact will provide your loved one with reassurance that you are contactable in an emergency but also, that you are interested and concerned in their health and well-being.

To positively influence a

healthy lifestyle

. According to the report on the social isolation of seniors issued by the Council of Seniors of Canada, it has been shown that frequent contact helps promote good practice, in terms of healthy living among vulnerable seniors.
Technology offers a whole range of communication possibilities. Still, the telephone remains the preferred option for seniors because it is simple to use, inexpensive and offers users confidence and autonomy. However, it is important to consider the difficulties caused by hearing loss, visual loss, or cognitive decline.
Hearing problems such as presbycusis prevent high-pitched sounds from being heard, which can often prevent individuals from hearing the phone ringing or can make phone conversations trickier. Visual disturbances such as age-related macular degeneration can cause difficulty reading the keyboard or display screen, which can discourage a senior from using the phone. Finally, mild, or moderate cognitive deficits can limit the understanding of how an overly sophisticated device works or make it difficult to dial phone numbers.
Criteria to consider when choosing a device
When choosing a phone for a senior, it is best to identify short and medium term needs, especially if their condition can fluctuate or decline. Here are the criteria to consider:
Use

: What type of use will be made by the senior: occasional, regular, or only in emergencies? This criterion makes it possible to identify the number of contacts necessary to program or the need to include (or not) an answering machine. In the case of a user with moderate cognitive impairments, the risk of accidental calls to 911 should be assessed and emergency numbers programmed accordingly.

Simplicity

: Depending on the user's degree of understanding and autonomy, you may be able to program the device for speed dialing, unless they are able to understand the menu and make changes themselves. Some devices offer the photo key which simplifies the dialing of numbers thanks to the unique button identifying the person to be reached.

Audio

: In some cases, it will be necessary to change the volume of the ringer on the handset. An additional 20 to 40 dB is recommended for users with hearing impairments. It is also necessary to check the compatibility of the telephone with a hearing aid (look for the symbol M or T). Some phones offer an indicator light that lights up on an incoming call or an audio caller ID announcement.

The

visual

: An easy-to-read keyboard with large keys and large numbers, contrasting colors, with relief or concave will make it a lot simpler for elders to use. Quick dial buttons identifiable by photos are desirable for users with memory impairment.

User mobility

: Some seniors prefer to have the phone in a fixed place (near the bed or in the kitchen). You must then make sure that the wire does not create a risk of falling and that the elder can reach the phone on time. Some phones allow you to increase the ringing time before the answering machine plays. In the case of landline phones, it is best to make sure that the ringing tone is audible in all rooms. If the elder is mobile around the house a cordless phone may be an option given that they remember to put it back on charge.

The

answering machine

: Some phones offer a great recording capacity or the opportunity to play messages slower.
Here is a summary table of the criteria to be considered, as well as the various options available at Eugeria: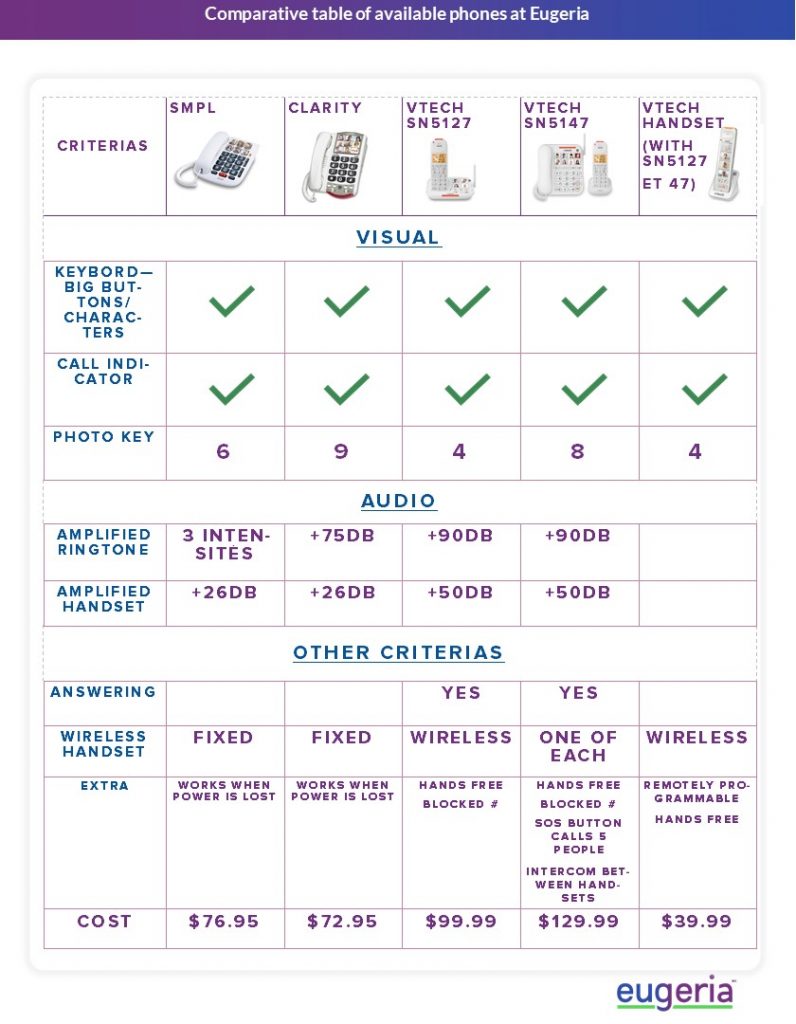 Regardless of the type of device chosen, the most important thing is to make sure that the senior is comfortable using their phone and to maintain communication links with them.