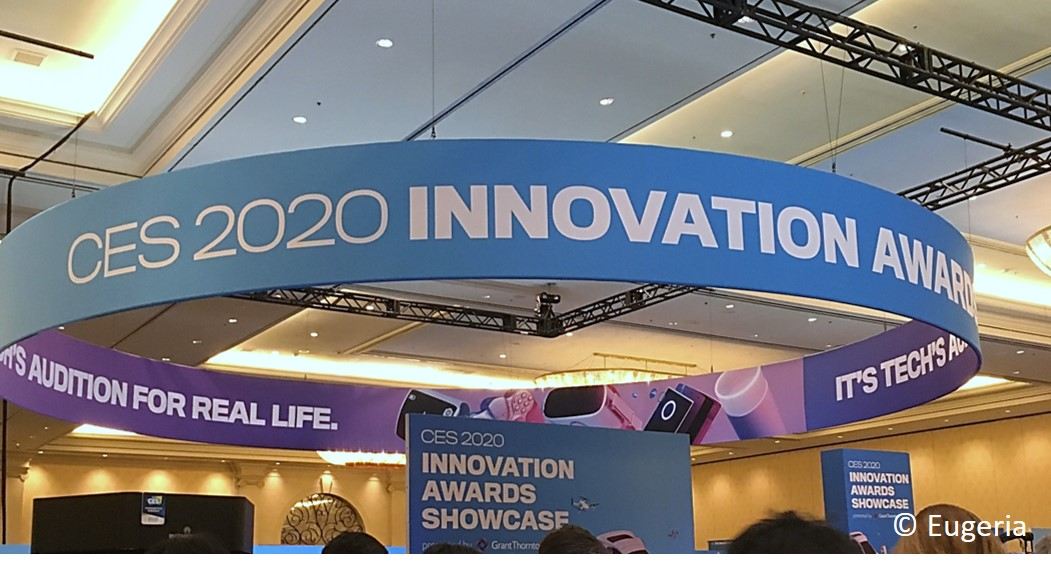 Eugeria at the CES 2020 on the hunt for technology to age better
Eugeria's CEO, Valerie Larochelle, attended the Consumer Electronics Show (CES) 2020 in las Vegas at the beginning of January. This international event gathers all those with an interest in consumer goods. Valerie's mission of the week: to discover innovations around aging and loss of independence. She also exchanged on innovation to improve the daily lives of people affected by memory loss.
Here are the summaries of her daily discoveries throughout the week:
---
Day 1 – Smart homes for older adults – Jan 7, 2020
This first day at the CES was really fruitful and makes me excited about the coming 3 days! There are plenty of products, ideas, and conversations relevant to aging. My only worry: running out of time to absorb and process everything! Today's focus is on smart homes. I attended several conferences about smart homes, home security, and, particularly important for us, Aging in place – aging at home. Here are our take-home messages:
Some numbers and predictions
First some numbers. The non-profit organization American Association of Retire Persons (AARP) presented their 2020 report on the use of technology among the American 50+ population. Four main points:
Older adults adopt technology and it's not slowing down. Their rate of adoption is comparable to that of the 18-49 age group. In fact, it more than doubled from 7% to 17% from 2017 to 2019.
Despite owning many technological and smart objects, seniors do not use them to their full potential. "46% of all smart home assistant/smart speaker owner do not use their device daily." (AARP, 2019)
Secure home technology is a growing interest, particularly all types of home security technologies – door cameras (59%), door and window monitors (48%), or appliances (42%). However, there are privacy concerns to address.
Americans of 50 years old and more want health and wellness technology that enhances provider care.
The report is an interesting read and is available online.
The average American household is predicted to own up to 21 connected objects in 2023. It becomes crucial that systems are well integrated and easy to use.
Issues important to older adults
Good decision-making using connected devices is extremely important. For older adults, health and medical conditions are important factors to consider. New technologies have to collect the right data to raise an alarm at the right time.
Another important issue faced by users of smart technology for older adults is the ease of installation. Non-user-friendly installation remains an issue for smart devices in general that creates frustration and limits the use of these technologies.
The next steps
There are many new things in sight for smart homes and innovation for better aging. However, criteria such as "easy to use" and "easy to install" are crucial to encourage the use of smart devices to help people age in place. At Eugeria, we continue to look for solutions that properly fulfill these needs.
---
Day 2 – A secure home – Jan 8, 2020
Great Day 2! I spent most of it in the Central Hall of the Convention Center. This is where all the big tech players present their most recent innovations. Many of them touched upon "home security". There were signs for "Never get back to a dark home" or "Be more efficient at home." The three big players (Amazon, Apple, and Google) announced the creation of a working group to develop open standards for smart home devices and ensure a better integration of all connected objects.
A walk through the Hall
Sensors were everywhere – sensors for smoke, for water, for gas, for opening doors and windows, for movement, for lights, for remote cameras, etc. Their prices have significantly dropped due to the increasing offer. But the further I step into the Hall, the more obvious it became that these sensors should be adapted to better help people that live with cognitive impairment.
I also had the chance to test 2 different virtual reality (VR) sets specifically designed for people with dementia – one by an American company and another by a French startup.
I was impressed by the feeling of calm and wellness that both virtual environments gave me. We often associate VR to video games, advanced graphics, high speed reactions, or fictional universes, but the sets that I tried were well adapted to older adults! I was transported to a peaceful garden where I took a nice stroll. And then, I visited a nicely decorated living room with some pictures. I can easily picture how a loved one that lives in a retirement home with few opportunities to go out would enjoy this.
My favorite
It was great to see that all these robots are becoming more and more sophisticated throughout the years. However, their usage for seniors or people living with cognitive impairment needs to be further explored.
There are toy robots and even butler robots that will bring you water, but my favorite is LikU, a small robot companion available next year.
LikU is designed for people living alone. It responds to commands such as "Can you dance for me?" or "Can I pick you up?" It walks and approaches the person if they haven't interacted in a while. A camera on its forehead can also detect facial expressions and interpret emotions. I picked it up and chatted with it. It's great to see the progress of artificial intelligence has made in recognizing and interpreting facial expressions.
---
Day 3 – Technology for older adults: Mobility & Falls – Jan 9, 2020
There's plenty of innovation around the topic of falls.
Fall prevention
To start off, a company will release the "Welt" belt in the coming months to help prevent falls. This device is worn as a belt and tracks gait changes to notify the user or their caregivers about any changes that can increase the risk of falling. I also tested an app that can detect and analyze the factors that increase the risk of falls in a home. This app created by an American company uses augmented reality technology on mobile phones.
Fall detection
When a fall occurs, it is crucial to detect it as soon as possible. Connected clothing can resolve the issue of a loved one that refuses or forgets to wear a watch or a necklace. Two new products caught my eye. The first one is a connected pajama that detects falls and heartbeat of the user. They have already been tested in a hospital setting in Japan and will be released in the coming months.
The second option? Underwear! Myant – a Toronto company – is working on underwear equipped with a hidden fall detection device. They are easy to wash and can be easily integrated into the daily lives of a senior loved one with cognitive impairment who might forget their other wearables.
Fall rehabilitation
The last company that stood out of the crowd was Neofect. The company combines video games to rehabilitation – to recover after a fall or to simply improve balance. When I tried out the games, it didn't occur to me that I had spent several minutes completing exercises recommended by professional guidelines. The first version of this product with hand exercises following cardiac arrest is currently on the market. The balance version will come out soon.
One in three older adults fell in the last 12 months and falls can lead to severe repercussions on a senior's health. It's  inspiring to see concrete solutions being developed. It's particularly great to see solutions cover from prevention to rehabilitation for older adults even when they live alone or with cognitive impairment.
---
Day 4 – Accessibility and technology: Resources for people with other health conditions – Jan 10, 2020
To wrap up my week at the CES, I would like to share a few other innovations that address health issues and improve people's daily lives.
Dyslexia
The winner of the category Innovation 2020 are the Lexilens glasses by Abeye. These glasses are designed to help dyslexic children read better. https://www.abeye.tech/lexilens/
Visual impairment
Another winner of Innovation 2020 is the first ever tablet for people with a visual impairment. Tactile Pro, by PCT, is a tablet for reading and browsing. Texts are translated in braille so that people can read anywhere, anytime. http://www.powerct.kr/
CES 2020 included many new consumer products for transportation and smart homes, but it was amazing to see innovative solutions to accessibility issues!
---

Feel free to contact us at [email protected] or 1-855-55-GERIA (1-855-554-3742) for any questions pertaining to what we saw at CES. Who knows? Maybe there's an innovation that addresses a very specific issue that you're facing!